Flood Restoration Process in Cabot, Little Rock, & Hot Springs
Water-related disasters can cause home and business owners a lot of distress and financial difficulties. Floods, for instance, can ruin furniture, damage electronic equipment, mess up carpet flooring, and it can also devastate personal effects and other household items which people treasure and hold dear.
If left to its own devices for a long period, floodwater can wreck properties and belongings even more. Wood can rot, metal can corrode, and mold can also grow, creating a biohazardous environment that will render the property even more uninhabitable.
Sources of Invasive Floodwater in Arkansas
Unwanted water can be introduced into a home or business establishment in different ways. Plumbing accidents, toilet overflows, leaking roofs, and the malfunctioning of appliances that use water are some of the most common culprits. On the other hand, natural disasters like hurricanes and flooding from nearby bodies of water can also cause water intrusion into properties. These natural disasters have the potential to be completely damaging, causing heavy losses to properties.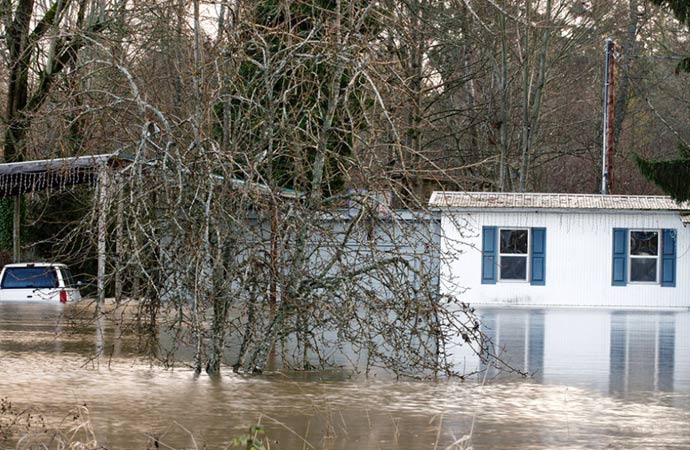 Our Proven Water Damage Restoration Process by Chenal
Chenal Restoration is the most trusted name in water damage restoration in Little Rock and throughout Arkansas. Our restoration professionals can lend you a hand when water damage strikes your property. We follow a comprehensive and systematic process to ensure the complete rehabilitation of residential and commercial properties that have experienced water damage:
Evaluation – We will thoroughly inspect your property to determine the source of the invasive water, and we will draft recommendations on how we'll get your place back in order.
Service Cost Approximation – We are completely transparent with the kind of services we provide, so we'll give you a straightforward cost estimate before we begin the project.
Invasive Water Shutdown & Containment – We will stop the flooding at its source and contain the invasive water so that it won't spread to unaffected areas of the property.
Water Extraction – Most of the water will be extracted from your property using a powerful pump.
Evaporation & Dehumidification – We will use airflow machines to evaporate the remaining moisture inside the property. With the help of dehumidifiers, we will also counteract the moisture that gets into the air because of the evaporation process.
Moisture Mapping – Using moisture meters and other technologies, we will track the amount of moisture remaining throughout the property. This helps in ensuring that your home or business establishment is completely dry.
Flood Cleanup, Disinfection, & Deodorization – Debris that was left behind in the wake of the disaster will be cleaned up. The property will also be disinfected to make sure that harmful pathogens and biohazards are completely eliminated. The place will also be deodorized to get rid of malodorous elements.
Repair & Reconstruction – We will fully restore and repair everything that can still be salvaged from the disaster event, making sure that your property is returned to its original pristine state.
Trust Chenal's Flood Restoration Process for Your Property in Conway & Mayflower
For the best flood damage restoration process in Arkansas, you can rely on Chenal Restoration. Our certified technicians have the skills, savvy, and tools to provide the right solution for you. If you are living in Benton, Mayflower, Bauxite, Cabot, and other Arkansas cities that we serve, give us a call at 866-971-5098 for more information or to make an appointment.