Toilet Overflow in Little Rock, Hot Springs, Conway & Benton, AR
Is your toilet overflowing! Is it clogged? Did a pipe burst? Have you experienced panic over watching the water and toilet contents rise, overflowing the sides of the bowl, all over the floor, and possibly flooding your house? If it's upstairs, then it could easily adversely affect your downstairs ceiling!
Just before you call us, make sure that you take care of the following:
Turn off the toilet's water supply
Keep children and pets out of the room
Mop up the floor, and clean up the mess
When realizing that the damage is worse than you thought, call us immediately
One priority goal is to prevent potential issues following a toilet overflow including: drywall damage, tile and grout repair, mold growth, musty smells, plumbing leaks, electrical concerns, and worn out toilet parts.
There are several components we look at to remedy toilet overflow issues including: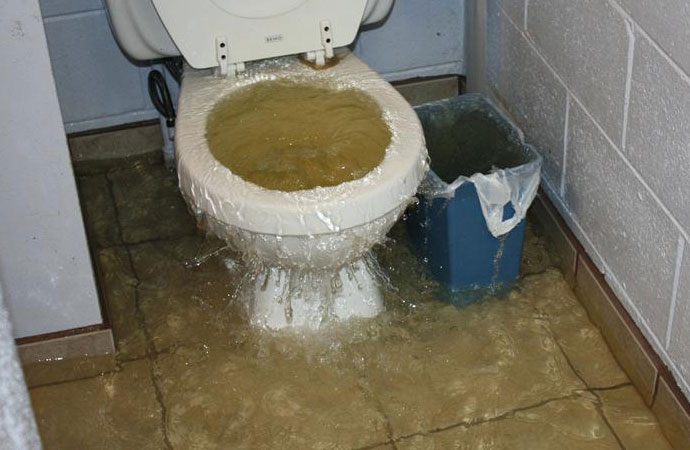 Clogged Drain Line
Line stoppage is often the primary reason that toilets overflow. The problem could be in the line that connects your toilet to the main line outside; it's also possible that a different drain line could be causing the backup. If the line from your washing machine clogs, it might block the line to your sewage system or septic tank.
Sewer
Is the problem with the pipes inside your house or the lines outside of it? The lines that run from your house to the main sewer line can get clogged with foreign objects, and the roots from trees in the yard can dislocate the pipes or actually block them.
Septic
If your house is on a septic system, it's possible that the field isn't percolating. The area around your underground tank isn't capable of diminishing all of the water that is coming into it. The septic tank may be full or the field may not be able to absorb any more water.
Blocked Trap
At the back of your toilet is an S-shaped trap between the bowl and drain line that is supposed to keep the drain from clogging. This line can be clogged by items such as paper towels or too much toilet paper. A blocked trap will stop the water from getting to the drain, which casues the toilet to overflow.
Low Flow Toilet
If you have a low flow toilet, it may not be able to handle everything that you're demanding of it. Some older toilets are weaker than newer models. Non-flushable items or too much toilet paper are often too much for your toilet to handle, causing it to back up and overflow.
Never try to flush any of the following down the toilet: paper towels or napkins, feminine products, diapers, dental floss, hair, or any kind of plastic.
Contact Chenal Restoration immediately to dispatch an experienced technician to fix your overflow, possible burst pipes or running toilet. Major problems require the right solution! We are your logical choice.