Restaurant Restoration in Little Rock, Hot Springs & Fayetteville, AR
It takes a quick hand and a vigilant eye to operate a restaurant. Without these, running an active kitchen filled with people and foods can easily end up in a disaster. But a restaurant owner should be concerned beyond the quality and cleanliness of the food being served. A restaurant also has to use fire, gas, and water on a daily basis, and these elements increase the risk of starting a fire or flood.
In addition to property loss, a fire, flood or storm can result in the loss of:
Your chefs
Waiters and Waitresses
Trendy restaurant decor
Expensive kitchen appliances
Rare ingredients
Customers
If you lose any of these, you'll have a substandard restaurant that could make you can lose your customers for good. To keep your business from closing down after a disaster, it's important to contact Chenal Restoration immediately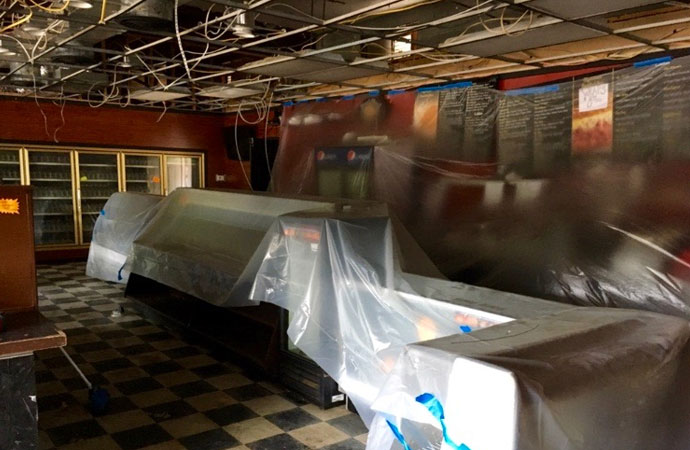 The Benefits of Professional Services
We understand that repairing a restaurant requires extreme care and strict attention to facilities and equipment, especially those directly involved with food preparation. We also understand that restaurants invest in attractive decor and high-standard kitchen appliances to be able to provide top-quality food for their customers. We'll also be sure to take care of any damaged equipment and decorations to preserve their usefulness and appearance.
We have the experience and the tools to get your restaurant up and running again without any problems. Our water and fire and smoke damage restoration services can address different situations, such as:
In case you're concerned about your sensitive documents, furniture, or electronics being destroyed in a natural disaster, you can check our contents restoration services.
If you'd like to hire us, contact Chenal Restoration today. We service properties located in the surrounding areas of Little Rock, Hot Springs, and Fayetteville, Arkansas. Give us a call at 866-971-5098, and because we're operational 24/7, feel free to contact us anytime.