Carpet Water Damage Restoration in Little Rock, Hot Springs, Conway & Benton, AR
Carpets are known to add ambiance, character, and depth to any room. Be it wall-to-wall or carpets that occupy a certain dimension on the floor, there are certain purposes as to why you, the homeowner, have installed them in your property.
Three of the major reasons why people just love to place carpets in their home is for aesthetic, in-home feel, and insulation purposes. Let's face it; carpets bring rooms into a whole different dimension. Because of its numerous textures and designs, carpet can make one room look like a safe haven for toddlers, and yet increase the comfort value of the living room, making it easier to socialize with your guests. Carpet also feels great between the toes, and since it is soft and fuzzy to the touch, it acts as a safety net for your rambunctious kids. This type of furnishing also has home insulation properties, making carpets a desirable installment in almost all structures.
Indeed, carpets have the unique ability to be versatile in any room, however, to keep it from functioning the way you want it, it needs to be maintained, inspected, and sometimes repaired – especially when it has sustained severe damages from moisture.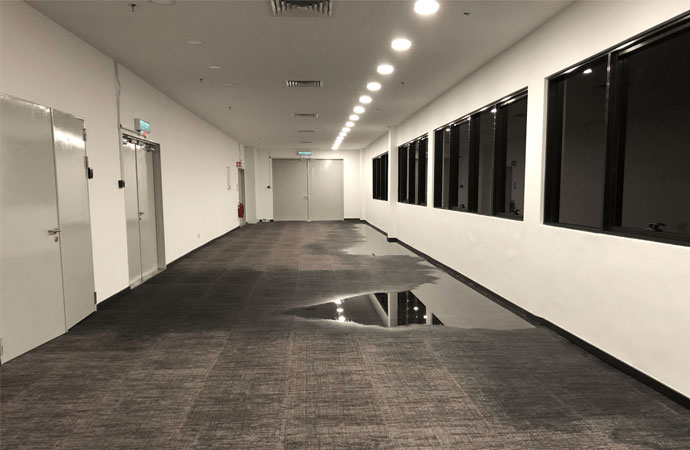 Why Carpets and Moisture Are NOT a Good Mix
Water can come in contact with your carpets in two ways: via natural disasters or in-home water accidents. Whatever the cause, you must immediately remove any trace of moisture from your carpets, in order to keep them from wearing out, reducing their lifespan, and mold and mildew buildup.
Not all carpets are made with the same material. Some are created with tougher textiles, while others are made with delicate components. If moisture is still present within the fibers of your carpets, chances are that it will soften its surface and imbed itself within your carpet, which will cause your carpets to break. Also, since mold and mildew need dark, humid, and moist areas to manifest, your carpets become viable spaces for them to grow and multiply.
In order to completely dry this type of furnishing, sometimes do-it-yourself methods won't just cut it, especially when it has sustained heavy water damages. That is why we, at Chenal Restoration, have made it our duty to remedy all carpet water damages with finesse and speed!
Why Choose Chenal Restoration?
We, at Chenal Restoration, have been the leading restoration company to homes that are situated in the surrounding areas of Little Rock, Fayetteville, and Hot Springs, Arkansas! For many years, our services have helped families and communities pick up the pieces after experiencing major disasters – be it natural or in-home. With our state of the art equipment and expertly trained professionals, we always put our best foot forward before, during, and after every project!
If you are interested in our services, do not hesitate to give us a call at: 866-971-5098 or visit our contact page here. You may contact us at any time of the day because our operators are on standby 24/7!