Fire & Smoke Damage Restoration in Traskwood
Both fire and smoke can potentially cause significant and sometimes irreparable damage. Accidents involving fire are not only dangerous but also traumatic. Homeowners may be unable to handle the restoration work necessary for fire and smoke damage on their own. To finish the repair job, you may need the assistance of a professional.
Chenal Restoration is the company to call if you live in the Traskwood area and require restoration services for fire and smoke damage. We have some of the most skilled professionals that can readily manage projects that are so intricate. We guarantee that we won't let you down if you give us one chance to prove our expertise. You may schedule our services and find out more about us by contacting us online or calling us at 866-971-5098.
Fire & Smoke Damage Restoration Process by Chenal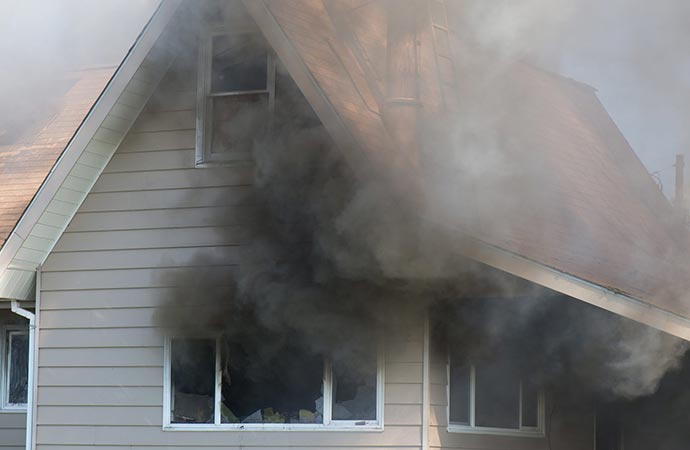 We will start by inspecting your place; we will evaluate the level of damage that has been sustained. After that, we will devise a strategy for the repair, and once we get your go-ahead nod, we will go to work.
Our staff will compile a comprehensive inventory account of the objects that have been damaged. We will make our total effort to get the stuff that can be salvaged. We are experts in restoring irreplaceable relics such as pictures and heirlooms passed down through families. Things that are essential to you would be given high priority, repaired, and brought back to you in a hurry. We will keep all of your stuff in a secure environment at our storage facility until the restoration is complete.
The whole of the property will be returned to its pre-disaster state in an aesthetically pleasing manner, and we will work diligently to ensure that our work is completed as quickly as possible so that you won't have to go through any more hardship.
Services by Chenal Restoration in Traskwood
Following are a few of the services we provide in Traskwood-
Chenal Restoration provides a wide range of talented individuals that can help you with your fire and smoke damage recovery. Our emergency services are available around the clock, so don't hesitate to get in touch if you need help. We don't cut corners when it comes to the materials we employ or the services we provide. To book our services, please contact us at 866-971-5098.