What is Black Mold and why is it Dangerous?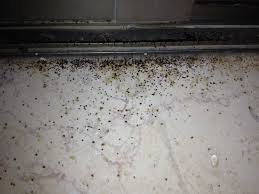 Whenever water related disasters strike your home, your primary concern after the event is to expel the flood from your property. You know that when you keep the afflicted area submerged in water, it may cause numerous damages like brittle floor boards and walls, and weaken the constitution of certain items like your furniture and furnishings. Once you have dealt with the problem, however, it is easy to return to your daily routine like nothing ever happened. Sadly, most owners do not realize that, in some occasions, especially when the damage inflicted on your property was great, secondary water damages start to emerge right under their noses.
What is Mold?
The chance of mold appearing in your home is significantly higher, whenever a flood occurs inside your property - why, you ask? Because if the flood water was not expelled properly or professionally, it is possible that excess moisture will still be present in your home, which can become perfect places for mold to manifest.
Mold is a kind of microorganism that loves to grow in dark, humid, and damp places. Now, although it does not pose any threat because of its size or color, mold, however, can damage the structure of your home and can be detrimental to one's health.
When you see mold either on your walls, ceilings, or floors, it is a sign that this part of your home's design is damaged or weak. The best way to remedy this problem is to immediately have it replaced or repaired, before it collapses, so that no one living in the property will get injured in the future.
When it comes to your health, getting rid of the effects caused by molds can be difficult to deal with, especially when you are dealing with black molds.
What is Black Mold?
There are three types of molds: allergenic (non-life threatening), pathogenic molds (attacks the immune system and can grow in your lungs), and toxic molds (the most dangerous and under which black mold is classified).
Almost all molds spread their spores via air travel, but what makes the spores of black mold different from the others is the presence of mycotoxin, and it is this toxin that creates numerous alarming health symptoms which include:
Mental impairment
Breathing problems
Damage to internal organs
Death
How Do I Deal with Mold Infestations in My Home?
It is possible to remove mold through do-it-yourself methods, only when the amount of mold in your home is still controllable. However, if the mold has already occupied a significant percentage of your home, it is best to call in the professionals, so that they can perform a method called: mold remediation, immediately.
For homes experiencing mold infestation in the surrounding areas of Little Rock, Hot Springs, and Fayetteville, Arkansas, contact Chenal Restoration by dialing: 866-971-5098 or visiting our contact page here.
We do not only offer mold remediation services, but we also offer the following services:
Contact us today!