Understanding Storm Damage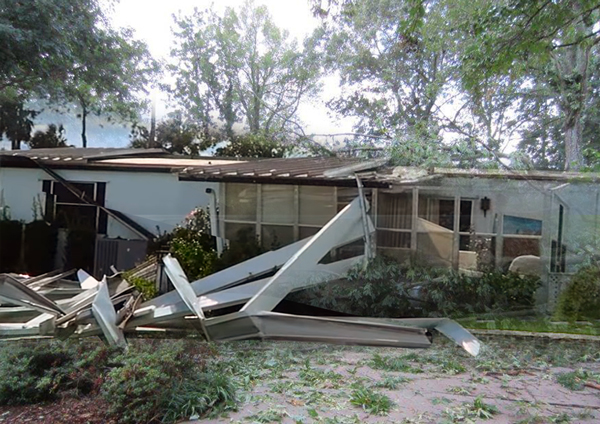 Regardless of your stance on climate change, it cannot be denied that today's storms are becoming stronger and more devastating. Flooding, landslides, hail and strong winds can severely damage your home when a major storm strikes.
The extent of damage depends on the type of storm that hits your home. Here are some of the more common types of damage your home might experience from a major storm:
Wind Damage – This can be caused by hurricanes, tornadoes, or even thunderstorms. Damages that comes from strong winds typically impact roofs, siding, and windows. The strength of the wind, along with flying debris, has a bearing on how much damage you experience.
Flood Damage – Flooding usually occurs when torrential rains hit and the water cannot be drained away efficiently. This often happens near bodies of water but can occur in low-lying areas or in homes with poorly constructed sewage systems.
Hail Damage – When hailstorms occur, the severity of damage will vary based on the size of the stones and the length of the storm. Your roof is likely to encounter missing or cracked shingles, holes in the roof, broken windows, and other issues that need repairs.
Blizzard Damage – Blizzards feature freezing temperatures and freezing precipitation, which will cause problems for pipes that are not winterized. A frozen pipe that bursts will create indoor flooding and water damage.
These are just some of the types of storms and the kinds of damage that these storms can bring to your home in Little Rock, Hot Springs, Conway & Benton, Arkansas. To get the help you need for storm damage restoration, the company to call is Chenal Restoration. We specialize in all types of restoration work, such as water damage restoration and fire damage restoration, and have been restoring homes as well as businesses for years. Our team of certified professionals is ready to help you at moment's notice, and our emergency response team is on standby all hours of the day and all days of the year.
When your home is damaged because of a storm, it helps to have a company you can trust like ours on speed dial. We are the emergency response contractor who can be at your door the moment you need us. Just contact us at 866-971-5098 and we will be there for you.