Getting Rid of Smoke Odor After a Fire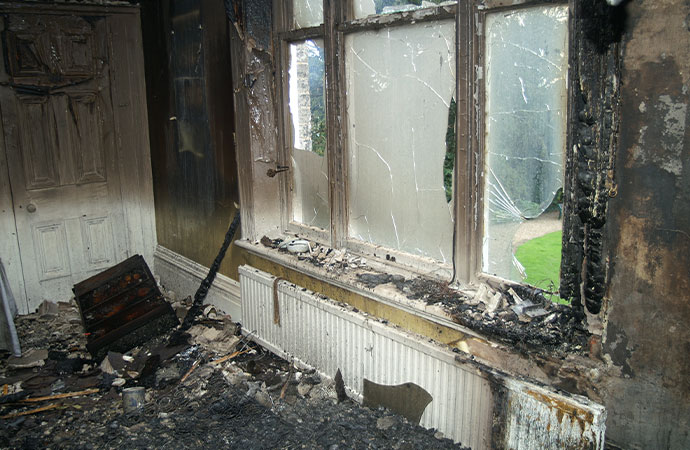 After a fire is put out and a home is declared safe for return, homeowners often discover that their fire-related problems are not over. Fires produce smoke and the odor of smoke can linger for a long time. Removing smoky smells after a fire is extinguished can be a daunting task, especially if materials like plastic and rubber were burned in the blaze.
Several factors impact how challenging it will be to remove the smell of smoke from your home. Those issues include the size of the fire, the materials that were burned, and the items that were exposed to the smoke. Here are some tips that may be helpful in getting rid of smoke odors after a fire:
Open all windows and doors – One way to get smoke odor out of your home is to air it out. To do that, you will need to open all your windows and doors to get air to circulate. You can also use fans to help speed up the process and get more air circulating inside your home.
All fabric items should be washed or cleaned – Curtains, drapes, pillows, mattresses, clothing, and everything made of fabric should be taken out of your home and cleaned. Those that can be washed should be washed. Those that need to be dry-cleaned should be dry-cleaned. Because fabric can easily reabsorb smoke odors, these items should be kept out of the house until the premises are free of smoke odors.
Have carpets professionally cleaned – Carpets are similar to fabric items in that it also reabsorbs the smell of smoke if it is still lingering in the air. Make sure that the smell of smoke is no longer around before you have your carpets professionally cleaned.
Clean all surfaces with a deodorizing solution – To clean and deodorize your home's surfaces, you need to hire a cleaning company to remove the smoke odor and deodorize the impacted items.
The Easier Way to Get Rid of Smoke Odor After a Fire
If you find that doing all this on your own after having to suffer through the trauma of a fire is too much, there is an easier way. When you need to have your home in Little Rock, Hot Springs, Conway & Benton, Arkansas treated for smoke and soot damage, you can call for professional help. The company that can help you with this is Chenal Restoration.
We specialize not only in fire damage restoration and water damage restoration but also in smoke odor removal, and smoke & soot restoration. We also deal with mold remediation and general odor removal. Contact us today to schedule an assessment and a free estimate so we can get started on your restoration needs.