Flood Damage vs. Water Damage Explained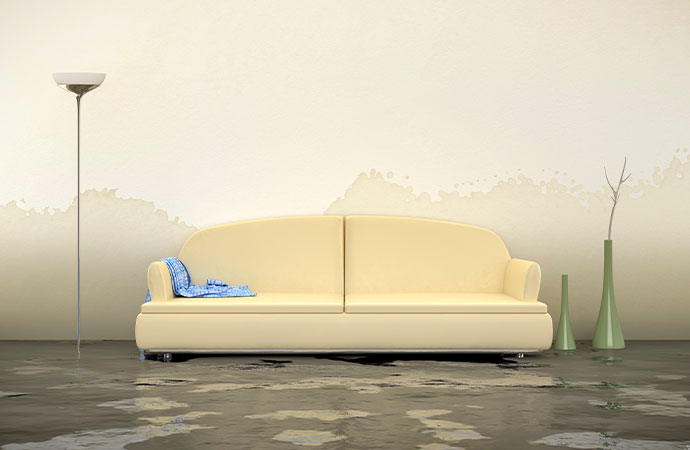 Hearing the terms "flood damage" and "water damage" can make you think they are one and the same, right? After all, both are caused by water. But flood damage and water damage are not the same.
Flood damage is different from water damage because of the source of the water that created the damage. To help you find out whether you are experiencing water damage or flood damage, here are some of the causes:
Flood damage
This is defined as the entry of water to your home from an outside source due to any of the following reasons:
Rapid rise of water due to tidal flow or inland waters
Rapid rise of surface waters or runoff coming from any source
Movement of water from lakes, rivers or streams due to the collapse of land on the shore because of erosion
Water damage
A water-damaged home does not have to be a flooded home. If the source of the water comes from within the home, you are looking at water damages. They can be caused by a leaking roof, a backed-up sewer system, a burst pipe, a malfunctioning washing machine or other home-related issues.
You can easily determine whether you are experiencing flood damage or water damage by answering this question: Are you the only one in your neighborhood having these problems? If you are, it is water damage. If everyone else is experiencing it, then it is flood damage.
Other Differences Between These Two Events
There are other differences between these two, and these include:
Insurance coverage – When your home suffers from water damage, home insurance usually covers the cost of repairs. For flood damage, you need to have a different type of policy called flood insurance.
Safety and health – For water damage, you have 3 categories: clean, grey, and black water. The "black water," a category 3 event, is the most dangerous because of contaminants in the water. Flood damage is always pegged as a category 3.
Cleanup process – Water damage cleanup can be as simple as replacing rotted floorboards affected by the water that soaked through it. Flood damage, on the other hand, may require more extensive checks, repairs, and cleaning because it is most likely that the entire home is affected.
If you need help with water damage or flood damage in Little Rock, Hot Springs & Fayetteville, AR, Chenal Restoration is the company to call for help with both. Aside from water damage restoration, we can also help take care of fire and smoke damage and mold remediation.
Contact us for all your restoration and repair needs today. You can reach us at 866-971-5098 where our emergency 24/7 response team is always ready to answer your call.